x

Presenting
Redgates All The Kings Horses
aka ~ BOO
x
Congratulations to
Bob and Brenda Vomela of Colorado Springs
on their purchase of this beautiful boy!
Making his first show debut at
Colorado Springs Kennel Club show in June!
Boo out fishing with his new dad :-)
---
Boo aka Marshalls 2nd Show was September 23rd, 2012
at the Arapahoe Kennel Club.
Boo placed 2nd in the 12-18 Month Dog Class under Judge Clay Coady.
---
Boo's 1st Show
Colorado Springs Kennel Club
June 10th, 2012
Boo's first show in Colorado Springs!
Photo taken with his Proud Mom and Dad...
Unfortunately, the lighting was poor in the building so the pictures didn't turn out very good...
x
Boo placed third this day, but he'll be back to get'em in August!
Proud Mom and Dad...
Great Life Size Plus Bronze outside the Show Building.
---
x
Photo op with new mom Brenda in the backyard.... Wow what beautiful tulips!
x
May 4th, 2012
Dear Dana and Darrell,
I just want to thank you for allowing Boo to join our family. He has been a gift and a blessing and we have grown to love him very much. He fits right in and has even started to befriend two of our cats. He is happy and well adjusted, enjoys his backyard activities of bird watching, running around or just laying in the grass. He really enjoys his walks and weekend fishing trips as well.
We will be starting obedience training in two weeks and I know he will enjoy the interaction with other people as well as dogs. He has really come a long way in that regard and is popular with our neighbors as well.
He is eating very well and loves his yogurt in the morning. He loves to follow Bob around in the morning while he gets ready for work and then walks him to the door as he departs. Then he is my constant companion all day no matter if its housework or working in the yard he is always keeping a watchful eye.
We are trying to get him out and exposed to as many people and situations as possible by taking him on trips to stores, parks, different areas of town and to the Airforce Base.
Yesterday, he got to meet a 2 year old girl that startled him at first but we told him it was ok and he let her pet his entire body even grabbing his nose.
I know you have high hopes for Boo in the show ring as do we, but I can honestly tell you if he doesn't do another thing beyond what he has done to this point he is a champion in our eyes.
It is such a comfort to have him in our home and have him curled up on his bed at the end our our bed at night.
I am so grateful for your friendship and your mentoring with Boo. It has been a tremendous help to know there is someone there to lean on and talk to.
I am looking forward to a long future with Boo and all that comes with that.
Thank you again.
Sincerely,
Brenda Vomela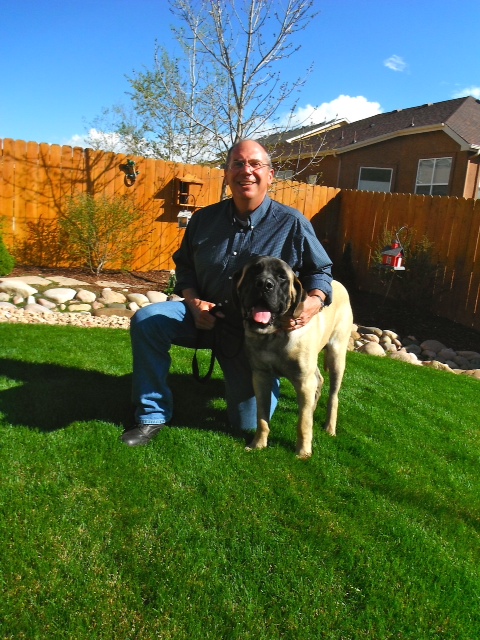 ---
February 2nd, 2012
It was Puppy play day at Ruthann Snyders of Mountain Peak Mastiffs
Here's Boo looking like a future Champion...
Boo Sporting a Red Color for this photo shoot :-)
Puppies are 6 1/2 months old now...
* * * * * *
Boo at the trot.
Demonstrating beautiful reach and drive...
From left to right.
Shadow in Yellow collar.
Ruthanns puppy Marvin (Brindle) on his back.
Rachel Diller's Marbles playing keep away from Boo in Red Collar.
Rachel save me.... I'm sooooo tired.
Tell the others I'm done....
What a fun day.
Josie in Hot Pink, Boo in the front, Shadow behind.
---
This picture of BOO,
taken at approximately 4 months old.
---
Here is a fun side by side
of BOO with his sire ~ Armoni...
Redgates All The Kings Horses

aka ~ BOO

At 3 1/2 Months Old...

x
Boo already showing much of the same structure that made his sire
nearly undefeatable in the regular classes.
After completeing his Championship,
Armoni retired to his owners jewelry store rather than continue
on to a Specials Campaign.
---
BOO

at approximately

3 months old.

Looking quite

innocent

while his

littermates

are tearing it up...

It wasn't me Mommy,

I'm being good!

Becky of Hallmark Mastiffs

showed up for a

Dogo Playday.

Boo looking quite content...
---
Below BOO at 8 weeks old...
Photos by Rachel Diller of Magnum Mastiffs...
BOO had a beautiful puppy head,
already demonstrating correct proportions from any angle...