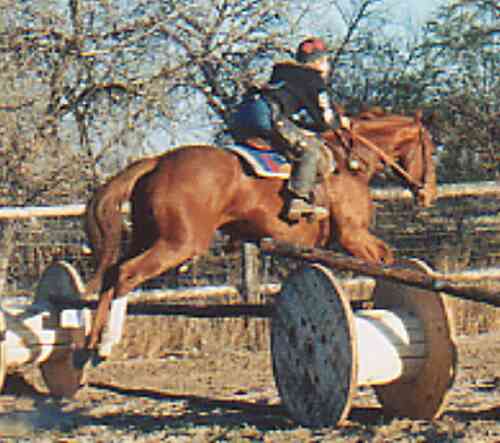 Here's Aftan jumping one of her first fences with some spare fencing that was available.
I quickly found out that Aftan was a great jumper!
Olympic Rider ~ Bruce Davidson called Aftan a "Hot Tamale".
Bruce went on to win an individual Gold Metal at those games.
She never batted an eye at anything I pointed her at.
Realizing Aftan had more talent then my finances could carry her...
I sold Aftan to Vicki Baker who was in the
United States Equestrian Team Developing Riders Program.
Aftans fearless style made her a perfect prospect for the upcoming
2000 Olympic Games in Sydney Australia.
Unfortunately, Vicki had a horrible wreck on another horse
at the Devon Horse 4Star Trials
which ended her quest for those games...
Vicki recovered well enough to still join the
United States Equestrian Team as a Groom for another rider.
Upon her return, Vicki bred Aftan who produced a beautiful baby.
She was then sold to a Junior Rider in Florida and thats the last I heard of her...